The Rise in Demand for Spiritual Jewellery
02 Oct 2019
Since ancient times, gemstones have been used as spiritual tools for healing. Nikola Tesla, the Serbian-American inventor once said: "If you want to find the secrets of the universe, think in terms of energy, frequency and vibration." The notion is that rocks, gems and crystals are in constant motion at the molecular level and can harmoniously interact with the energies of the human body to affect our physical or emotional state.
Even if you dismiss this concept as pure fantasy, it has been a useful storytelling tool for the jewellery sector for decades. Italian fine jewellery business Roberto Coin, for example, sets a tiny ruby in every piece of jewellery it makes. The idea is that when the ruby comes into direct contact with the skin, it promotes love, joy and everlasting health – a belief that can be traced back to the Ancient Egyptians.
Everywhere you look, brands are tapping into the spiritual jewellery concept. Daisy London has its healing gemstones necklace collection, allowing the consumer to choose their jewellery not based on aesthetics, but on the unique healing qualities of a particular stone. For example, amazonite is said to be helpful for harmony, integrity and communication.
Even brands without gem-set pieces are selling collections based on the connotations of certain words, symbols, emotions, star signs and chakras. A good example of this would be Mantra Jewellery, which states on its website, "we believe in the power of words to change your mood and your mindset".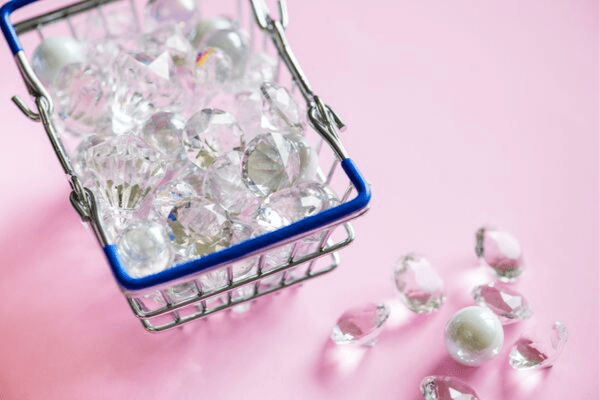 Internationally successful demi-fine jewellery brand Monica Vinader also uses this technique in its friendship bracelet collection. Rainbow hues are said to reflect positivity, mink tones are for success and coral is for good luck.
These examples give consumers another reason to buy or add a deeper layer of meaning to their purchase. In a time when experiences are prioritized above material things, and the synergy between the mind, body and wellness is considered so important to Millennial and Gen-Z consumers, it is understandable that customers are drawn to spiritual jewellery that can be seen as an outward reflection of their inner lives. If the 1980s and 1990s were all about outward displays of status, perhaps our current era is all about highlighting a strong and confident self-awareness and wearing this as talismans in the form of spiritual jewellery.
Crystals first became a hot item to buy in the 1970s, but it seems they are back for 2020 and beyond. Brands are repackaging the mysticism of gems and rebranding it to be more closely connected to the trending wellness industry.
Looking to source spiritual jewellery for your retail store? Visit Jewellery & Watch this February where you can connect with some of the top brands in the industry.
Disclaimer: This article was written for Retail Jeweller as part of the 'View from the show floor at Jewellery & Watch' series.