News & Insight from Retail Jeweller: Q&A: Willie Hamilton on the launch of 'Back on the High Street'
21 Sep 2020
This content is produced by Retail Jeweller who partner with JWF. Visit Retail Jeweller here for more content: https://www.retail-jeweller.com/
Following today's news that Willie Hamilton is collaborating with Scot Walker and Cathie Osborne to launch independent retail initiative 'Back on the High Street', Retail Jeweller asks the former CMJ chief more about the project.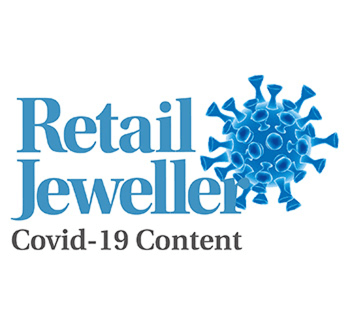 Q: This is your first major foray back into the industry since you left the Company of Master Jewellers (CMJ) in July 2017. What have you been doing both in the industry and outside it since you left?
A: My agreed sabbatical from the jewellery industry came to an end last year, but as you know I have always held great interest and respect from many sectors of the retail industry. I undertook a couple of chairmanship roles and Non-Exec Directorships, but my main interest has been providing mentoring and coaching for businesses as diverse as property management, men's hairdressing, fast food franchising, manufacturing and even Health and Beauty salons.
It is a wide portfolio, but the common denominator has been that they are all independent, family owned businesses. Within jewellery, I've worked with a number of retail jewellers ranging in size from single units to multiple sites and also with an admired and respected bridal ring manufacturer. More recently, I've been working with local government, reporting and advising on the impact of Covid-19 on the local high street.
Q: You are launching 'Back on the High Street' in conjunction with other industry names and investors, can you explain the idea behind the initiative and also tell us who else is involved?
A: The name 'Back On The High Street' was very carefully chosen as it describes the urgently needed focus, support and collaboration that is needed within our local town centre communities to bring back investment to what are predominantly, family owned, independent businesses . Without these retailers thriving on the high street, our town centres will decline and fall into ruin.
Equally import is that the acronym becomes BOTH and this was equally important as the remit is to help and support, not just retail, but the entire supply chain from sourcing raw material, manufacturing, design, distribution and sales, alongside any affiliated federations or associations.
Everyone involved has one common trait, we are all passionate about the independent retail trade and the supply chain of manufacturers, suppliers, designers, and sales teams that are the life blood of retail. Some of the names and personalities that will be known to Retail Jeweller are Scot Walker of Parify and Cathie Osborne of Retaissance.
Scot has been very proactive in helping the industry throughout the Covid lockdown, also Cathie is focusing on innovative ways to support the retail Industry through the transition changes, we are all adapting to post-Covid. Behind the scenes we have investment from a wide range of disciplines from across the industry. Scot's wife Andrea is also involved and has been a real driving force.
Q: When is the official launch planned for?
A: We are very much in our infancy and the first mention of our name has been our link with NAJ Awards in 2021. Perhaps our announcement is a bit premature as those awards will not take place until June 2021, but over the next few months we will be seen to be more active and our initiatives will grow and develop.
Q: What will be the main priorities for the organisation?
A: My main purpose over the past 15 years has been to support and build independent family businesses and I want to continue this with a group of likeminded people.
Initially the organisation's main drive will be to support independent jewellers in their efforts to try and compete online, even if they don't have a current web offering, as well as helping to support suppliers with new channels to market.
We are identifying areas that need support, collaboration and development and our priorities will be to deliver business solutions and commercial advantage to ensure our independent trade can thrive for decades to come.
Q: Will the remit of 'Back on the High Street only extend to jewellery retail?
A: Our immediate focus is on jewellery and the challenges ahead are immense, especially during and following Covid. That said though, retail is retail and we are confident that the successes from BOTH will be replicated across other sectors.
Q: Why do you feel now is the right time to bring this initiative to market?
A: The jewellery industry welcomed me in and collaborated with me for over 15 years. Pre-Covid the industry was unrecognisable to what it was 15 years ago and post-Covid it is unrecognisable once again. So, it needs all the help, support, investment and initiatives that we can muster.
BOTH is a group of experts and expertise ranging across the entire supply chain that recognised they could work collaboratively to support the industry in diverse, but necessary ways to try to ensure that independent high street prospers. I think it is also fair to say that Covid-19 has meant we have felt the need to launch earlier than anticipated.
Q: What can we expect to see from the organisation over the next 12 months?
A: Collaboration, commercial solutions, and support services to help face the massive challenge of change that is facing everyone in today's commercial sector.
We can't do this alone, we hope to find likeminded individuals that want to work in collaboration with us, give us feedback on what their needs are now and in the future, and hop to benefit of all of the independent jewellery trade.
If you have found this article useful and wish to continue to access all of Retail Jeweller's award-winning content on an unlimited basis, they are currently offering 25% off all subscriptions.