News & Insight from Retail Jeweller: Face masks to be mandatory in jewellers from July 24
15 Jul 2020
This content is produced by Retail Jeweller who partner with JWF. Visit Retail Jeweller here for more on their COVID-19 Advice Series: https://www.retail-jeweller.com/
The UK government has announced that wearing face coverings in all retail settings, including jewellers, will be mandatory from July 24 to combat the spread of Coronavirus.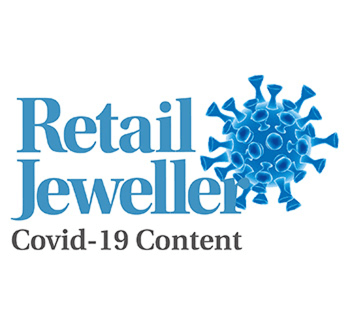 Those who fail to comply with the new rules will face a fine of up to £100, the government is to announce.
In England, Northern Ireland and Scotland face coverings are mandatory when travelling on public transport.
So far, only Scotland has made face coverings mandatory in shops but the new rules will bring England into line with Scotland.
Prime minister Boris Johnson told Sky News yesterday (July 13) that people in England should be wearing face masks in shops and that face coverings offer "a great deal of value".
Current UK government guidance states that evidence does not suggests that wearing a face covering protects you from Covid-19. But the guidance adds: "However, if you are infected but have not yet developed symptoms, it may provide some protection for others you come into close contact with."
Johnson said: "What we've said for a while now is that we do think masks have a great deal of value - obviously they're mandatory on public transport, on the Tube - but they have a great deal of value in confined spaces, where you're coming into contact with people you don't normally meet.
"What's been interesting on the face coverings issue in the last few months is the scientific evaluation of face coverings and their importance in stopping aerosol droplets, that's been growing.
"So, I do think that in shops it is very important to wear a face covering, if you're going to be in a confined space and you want to protect other people and to receive protection in turn.
"Yes, face coverings, I think, people should be wearing in shops.
"And, in terms of how we do that, whether we make it mandatory or not, we will be looking at the guidance, we'll be saying a little bit more in the next few days."
Johnson added that the government would be looking at "what tools of enforcement" might be introduced to "make progress" on the wearing of face masks.
Responding to the announcement, Helen Dickinson chief executive of the British Retail Consortium (BRC) said: "Retailers have made the safety of staff and customers their top priority and we support measures aimed at protecting the health of the public.
"While retailers will play their part in communicating the new rules on face coverings, they must not be the ones enforcing these rules. With hundreds of incidents of violence and abuse directed at retail staff every day, we welcome the announcement that enforcement will be left to the authorities, rather than potentially putting hardworking retail colleagues in harm's way.
"We look forward to further clarity over whether the wearing of face coverings will apply to shop staff. If so, there must be flexibility for colleagues who are in stores all day and can already benefit from other safety measures such as protective screens and 2m distancing.
"Retailers have already spent hundreds of millions installing perspex screens, implementing social distancing measures and providing additional cleaning in stores; we hope this announcement will make shoppers feel even more confident about returning to the high street."
If you have found this article useful and wish to continue to access all of Retail Jeweller's award-winning content on an unlimited basis, they are currently offering 25% off all subscriptions.